Alcoholics Anonymous
Northern Illinois Area (NIA)
District 11
Serving the following:
(Click/tap town name to see current meeting list)
Algonquin, Burton's Bridge, Cary, Crystal Lake, Fox River Grove,
Harvard, Huntley, Johnsburg, Marengo, McHenry, Richmond, Spring Grove, Union, Wauconda, Wonder Lake, Woodstock
24 Hour Answering Service 815-455-3311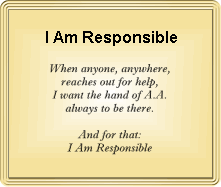 * Daily Reflections is copyrighted by Alcoholics Anonymous World Services, Inc. This graphic may not be reproduced, downloaded, distributed,  or otherwise copied. This site is linked to A.A. literature with permission of AAWS.
---
AA Preamble
Alcoholics Anonymous is a fellowship of men and women who share their experience, strength and hope with each other that they may solve their common problem and help others to recover from alcoholism.
The only requirement for membership is a desire to stop drinking. There are no dues or fees for A.A. membership; we are self-supporting through our own contributions. A.A. is not allied with any sect, denomination, politics, organization or institution; does not wish to engage in any controversy; neither endorses nor opposes any causes. Our primary purpose is to stay sober and help other alcoholics to achieve sobriety.
Copyright © The Grapevine Inc.
---
District 11 Elections are coming up at December's GSR meeting!
Please come to the meeting and get involved.  There are many service positions that need to be filled, in addition to those in the election!!
District 11 GSR meetings are held on the 1st Thursday of the month at:
First Congregational Church
461 Pierson St
Crystal Lake, IL 60014
District meeting starts at 7:30 PM
There are open service positions for district 11.  If you or someone you know is interested in getting involved with service work please attend the next scheduled GSR meeting to learn more – all are welcome to attend.